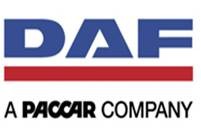 Adres
Hugo van der Goeslaan 1
Website
DAF Trucks N.V. is a wholly owned subsidiary of the North-American corporation PACCAR Inc. DAF Trucks' core activities are focused on the development, production, marketing and sale of medium and heavy-duty commercial vehicles.
Another core activity focuses on the marketing and sales of light trucks manufactured by Leyland Trucks Ltd. in the UK, which is likewise a wholly owned subsidiary of PACCAR Inc. All DAF and Leyland products are backed up by a full range of services. DAF Trucks also produces components for third parties, ranging from axle assemblies to complete engines for buses and coaches and special vehicles.
DAF works according to the 'Build to Order' principle. This means that all vehicles are built to satisfy each customer's individual wishes, but production only starts after the order is received from the customer. This is very important, because DAF builds tens of thousands of different vehicle versions which are all built to meet each customer's individual specifications and transport requirements.
DAF Trucks has production facilities in Eindhoven, the Netherlands, Westerlo in Belgium and in Ponta Grossa, Brasil. Thanks to its high efficiency and the world class manufacturing and products, the company has established a strong competitive position on the truck market.
Ad Kamp
Functie
Managers Operations Support