Sprekers in de caroussel - Nieuws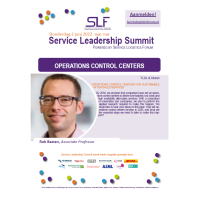 28 april 2022
Tijdens de Service Leadership Summit doen deze sprekers hun verhaal.
Het programma van de Service Leadership Summit is uniek en verrassend. Plenaire delen zorgen voor de nodige Food for Thought. De actieve inspiratiecarroussel is het hart van het programma. In sneltreinvaart raast u langs een aantal 'Most Promising' technologische ontwikkelingen voor serviceketens*. Tijd om informatie met vakgenoten en mede SLF'ers te bespiegelen is er tijdens de vele pauzemomenten.  
In de Inspiratiecaroussel zit:
Rob Basten, Associate Professor TU/e
Marco Vijfvinkel, Customer Success Manager Digital Solutions & Services Marel
Titel: Operations control centers for sustainable after-sales services
Summary:
By 2030, we envision that companies have set up operations control centers to deliver low footprint, low costs and high availability after-sales services. With a consortium of universities and companies, we plan to perform the applied research required to make this happen. We would like to hear your ideas on this topic: How will operations control centers function in 2030, and what are the essential steps we need to take to make this happen?